kuri-gohan(chestnut rice) bento recipes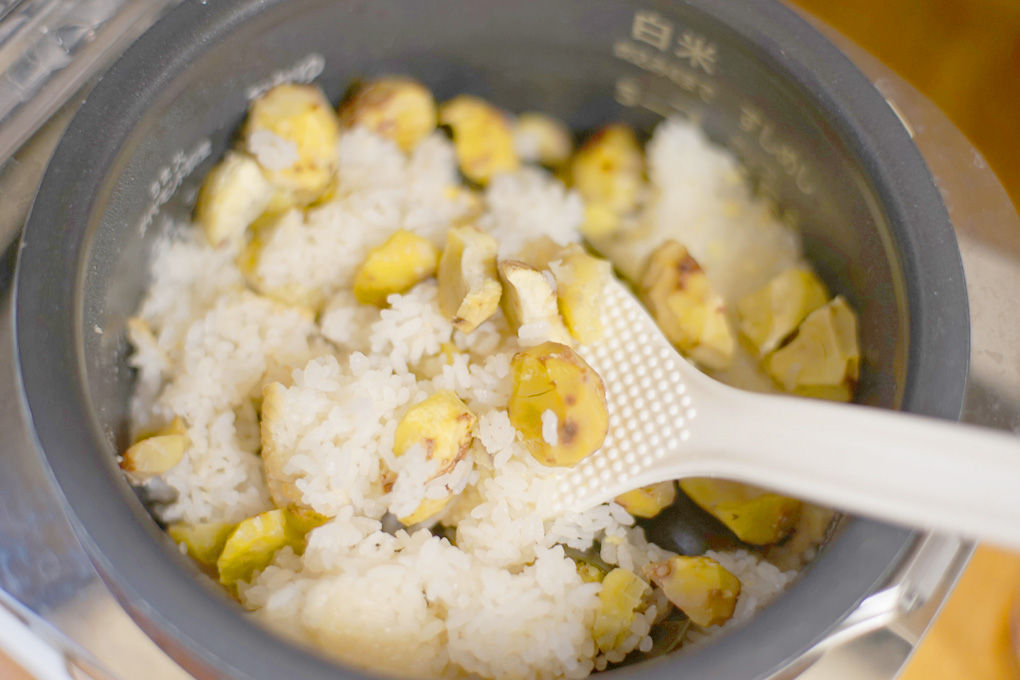 The Japanese chestnut is sweet and very delicious.
The chestnut rice is the best autumn taste of Japan,I think.
My family loves this very much.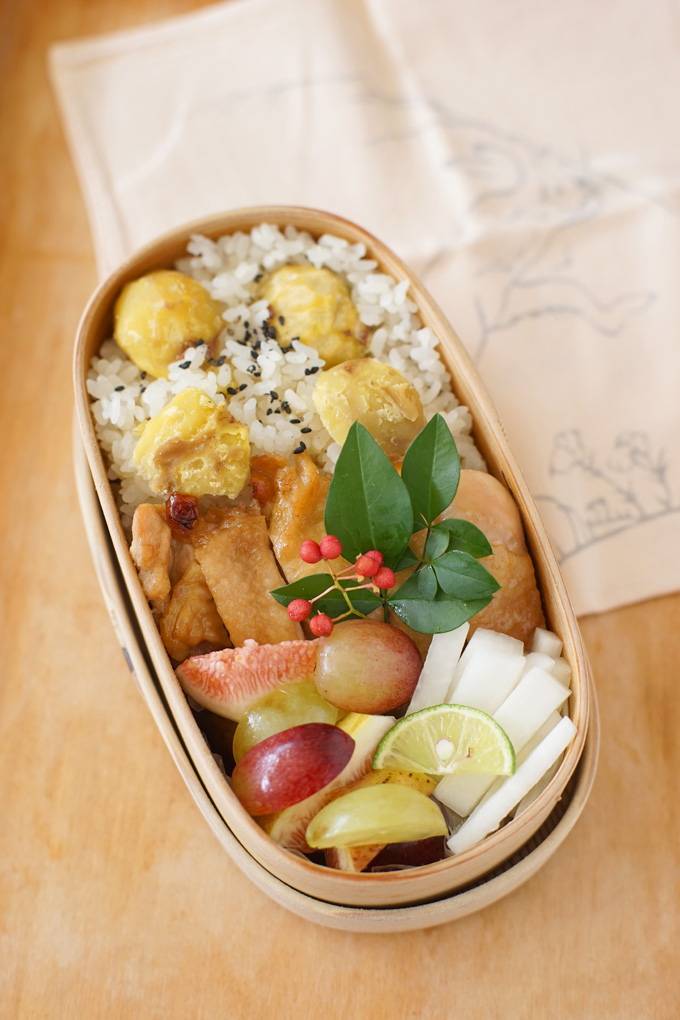 This is special bento recipes for autumn!!
kuri-gohan(chestnut rice)
Ingredients
3 cups Japanese rice
10-20 raw chestnuts (the thing which barked it)
1 dashi kombu seaweed(3cm *10cm)
1 Tbsp. sake
2 Tbsp. mirin(Sweet cooking rice wine)
1 Tsp. salt
pinch of black sesame
pinch of salt
1. Wash the rice with cold water, and please add water according to the scale of the rice cooker.
2. Add sake and sweet sake, salt to rice, and, please mix it. Put on other ingredients on rice, and, please cook it with a rice cooker.
3. If rice is cooked, please ride black sesame and salt.
Teriyaki chicken flavored honey
Ingredients
200g chicken breasts or thighs
1 Tbsp. soy sauce
1 Tbsp. mirin(Sweet cooking rice wine)
1/2 Tbsp. honey
1. The chicken thigh cuts a part with the thickness with a kitchen knife.
2. Mix seasonings well and rub it to chicken thigh and am crowded.
Soak it overnight from 30 minutes.
3. Panfry meat. Or bake it with the oven which warmed to 200 degrees for approximately 13 minutes.
4.If meat cools down, please cut it into pieces to a mouthful size.
Pickeled Daikon radish in Sudachi juice
Ingredients
5cm Daikon radish
3 Sudachi
1 Tbsp. suger
pinch of salt
1. The Japanese radish barks it, and clappers limit.
2. Squeeze Citrus sudachi, and mix sugar, salt with fruit juice.
3. Match seasoning with a Japanese radish, and soak it overnight from 30 minutes.
Crude salt marinade of a fig and the grape
Ingredients
3 figes
3 Sudachi
5 grapes
1 Tbsp. ex virgin olive oil
pinch of crude salt
1. Cut a fig and the grape to the size that you are easy to eat with being with skin.
2. An appropriate amount increases crude salt and olive oil, and toss it.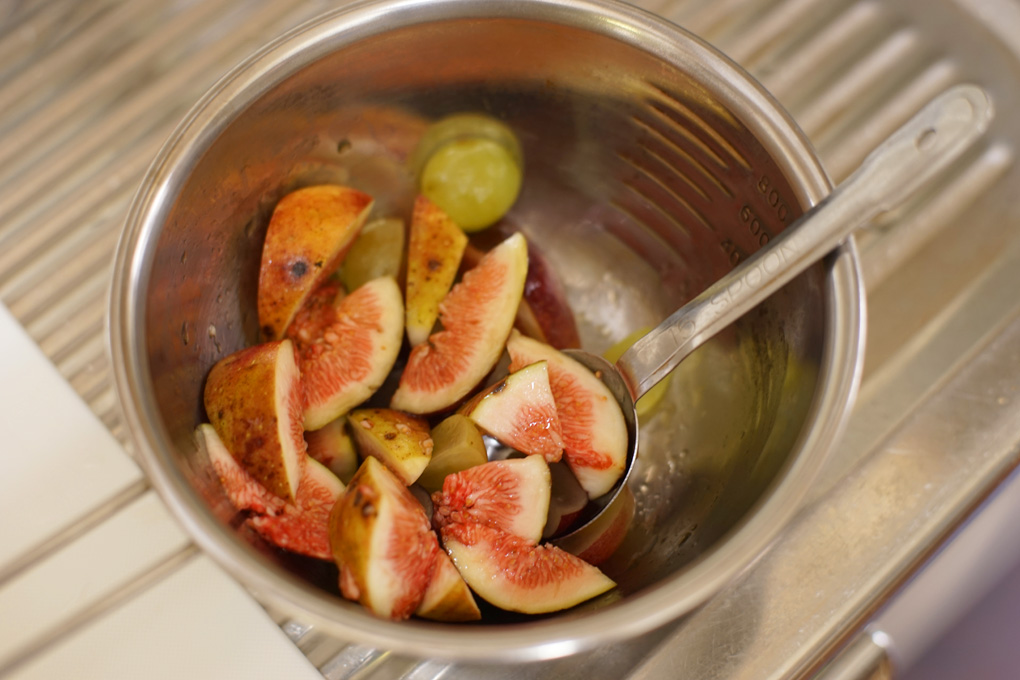 ---
Please serve these side dishes to a lunch box beautifully.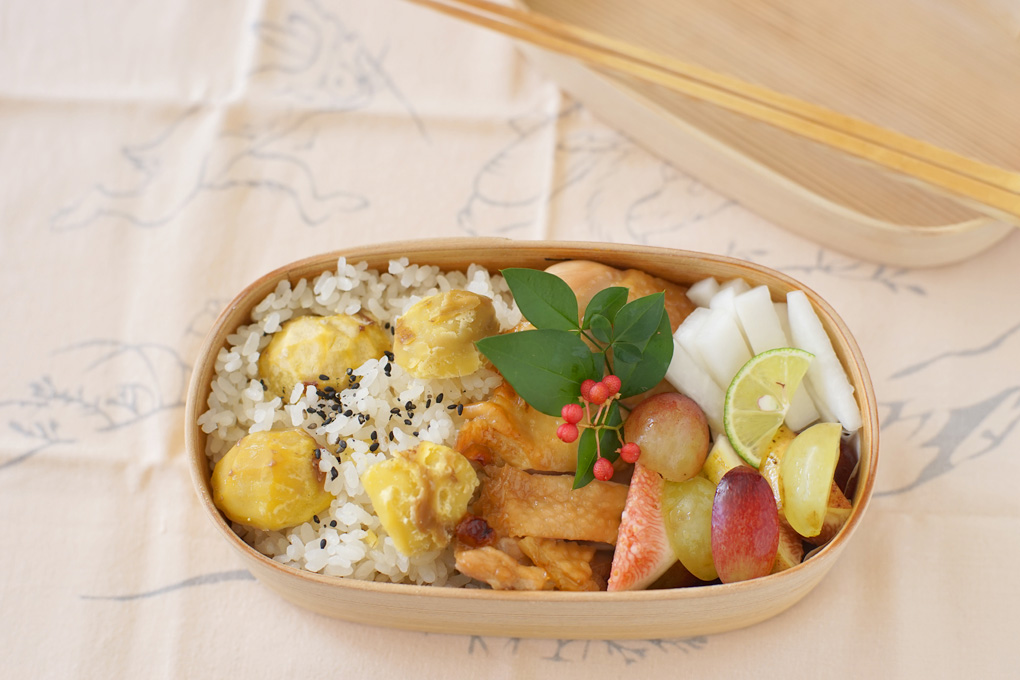 It is very delicious when you eat teriyaki and the fig of the chicken together!!